Torrot Kids Motorcycles Announced

The Next Generation of Kids Electric Motorcycles
Motocross | Trials | Supermotard
The new range of electric kids motorcycles are now landing in Australia and New Zealand!
Renowned Spanish manufacturer Torrot provide the next generation of electric motorcycles for kids, with a rich history dating back to 1948. The products offered by Torrot have an emphasis on safety & performance for age groups 3-11 in Motocross, Trials, and Supermotard segments. With the latest in technology, all models are fitted standard with Bluetooth App connectivity that puts the control in the palm of the parent or carer's hand.
For Australian & New Zealand, Urban Moto Imports has been appointed as the exclusive importer & distributor and are excited to support the next generation of riders with the introduction of Torrot's kids electric motorcycles into the region. Since 2011, Urban Moto Imports has been the exclusive distributor for a range of iconic motorcycle brands, and are also the team that previously distributed and managed the GasGas brand across ANZ, whilst it was formerly under ownership of Torrot.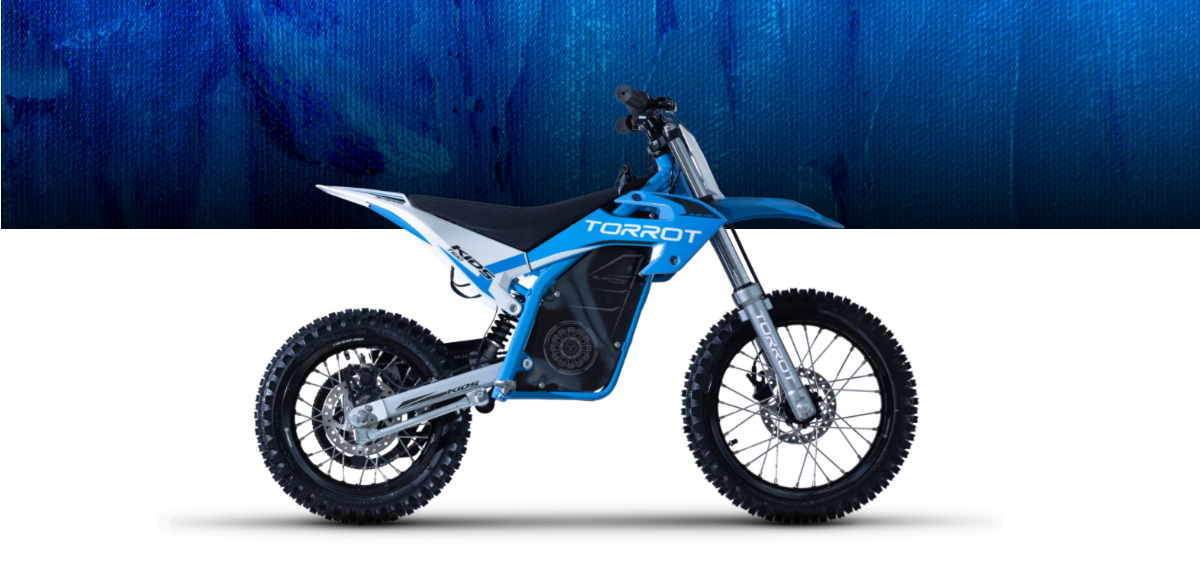 Joseph Elasmar, CEO of Urban Moto Imports commented, "We see this as a key opportunity to be able to bring such a wide range of high-quality kids electric motorcycles to Australia & New Zealand. These will be offered through our nation-wide dealer network, who are ready to support the next generation of riders as the world evolves and adopts electric vehicles. We see this as a critical step in ensuring that customers have access to high-specification & European made electric motorcycles, at an accessible price point across a wide range of riding disciplines. In this context, electric makes sense as the safer and smarter option for new and emerging riders."
The new Torrot range of motorcycles will be available for kids to experience in two different size offerings in electric Motocross, Trial or Supermotard. Torrot's extensive years of research & development now give birth to the next generation KIDS electric range, built using quality components such as EBR suspension, Chrome-Molybdenum steel chassis, hydraulic disc brakes, programmable controller and motor, aluminium rims, and Michelin tires, allowing riders aged between 3 and 11 years old to learn how to ride with safety, and enjoy the bike throughout their motorcycling journey. Torrot's range of electric bikes are easy to ride, quiet, clean and fun for new or experienced riders, both in the backyard, at the track or on the trail.
"As one of Europe's longest standing manufacturer of kids electric motorcycles, we at Torrot are confident with Urban Moto Imports' proven strategy, success and skill-set that the collective team offers, to build the next chapter for the Torrot brand and new customer base in the region to the highest level. For this reason, it was an obvious choice that the Torrot flag would fly under the UMI banner in ANZ as the exclusive importer and distributor." – John Dixon, CEO of Torrot.
MODEL RANGE
Torrot's electric range are designed to progress hand-in-hand with your child's development through their motorcycling journey. The Kids Series ONE is aimed at children aged between 3-7 years of age, whilst the Kids Series TWO is the natural next step, aimed at ages 6-11. Weighing between 28kg and 32kg with a removeable Lithium-ion battery – with an optional in-car charger – Torrot's range are perfectly suited to be taken anywhere.
ONE SERIES
TWO SERIES
IN YOUR CONTROL
Torrot takes good care of its next generation so that the first steps of its 'little ones' are always safe, thanks to the 'Parental Control' system. A wireless control that allows parents to limit, configure and even disconnect their child's motorcycle remotely from their mobile, through an Android or iOS application.
SAFETY
Torrot's range of kids electric motorcycles are designed and engineered for safe off-road and urban practice & exploration, with a range of benefits including:
No noise, engine oils or exhaust fumes
Removable Lithium-ion battery with safe battery exchange system
Security system "man overboard" in the case of an incident
App-Controlled (by parents or carer)

Total control of the motorcycle through the App (power, speed, throttle response & regeneration
Safety speed & power (adjustable through App)
Ability to switch off motorcycle through the App
Power switch (50% – 100%)
PARENTAL CONTROL
The parental control App allows the Torrot KIDS electric motorcycle to be controlled with a range of parameters for parents/carer to set and adjust, such as the motor response for progressive and safe riding.
AHEAD OF THE CURVE
No fumes, exhaust noises, or danger of getting burnt on hot exhaust or engines. Plus added security of adapting the bike's parameters to the child's riding ability with the configuration of the engine through the iOS & Android application.
With no engine oils or fuels to worry about, combined with its light weight, Torrot's range is practical to transport in the boot of the car without needing a trailer. Another advantage is the removeable battery which can be charged at any power point.
---
CONSIDERING FINANCE?
Your new Torrot electric motorcycle is just a few clicks away! Visit our website and submit your details to discuss your finance options with a team member from Torrot Australia.
---
FIND MY DEALER
With a growing network across Australia & New Zealand, type in your postcode below to find the nearest Torrot dealership closest to your location.
Interested in becoming a Torrot dealer?
Contact us via our website.
NEW TORROT KIDS MOTOCROSS MODEL TWO